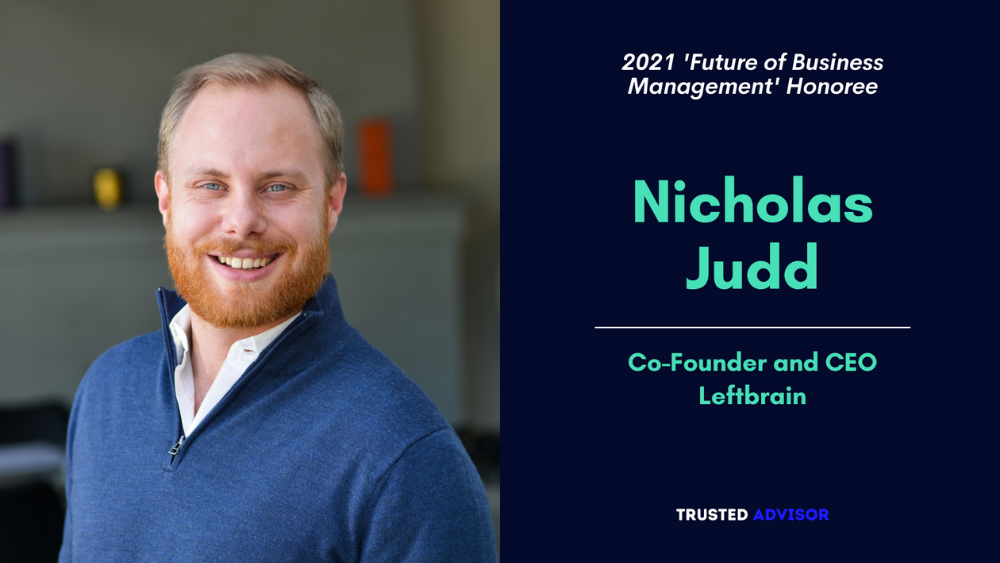 Trusted Advisor names Nicholas Judd to its 2021 Future of Business Management List
Trusted Advisor named Leftbrain co-founder and CEO Nicholas Judd was named to its inaugural "Future of Business Management" list. It is a holistic and all-encompassing collection of the most inspirational, successful, and innovative business managers in the country. They represent a talented, multi-faceted and pro-active business management industry that is changing as fast as our definition of "entertainment" changes.
"This list highlights the new face of business management: a diverse, talented and ambitious group of professionals," says Matthew Hoffman, Founder of Trusted Advisor. "The honorees were nominated by the best entertainment attorneys, artist managers, music industry executives, and entertainment advisors from around the country."
What is your mission in business management?
Our purpose at Leftbrain is to empower entertainers to take ownership of their finances and create lasting wealth. We do this by unifying and simplifying financial data in a single application. Uncomplicating business management allows entertainers to focus on their art. We are equally passionate about empowering employees. When employees feel empowered, they're equipped to deliver on our mission. We also think this climate is essential to recruiting and retaining the best people, so they are excited about their work and their ability to really shape the direction of the company.
We also think this climate is essential to recruiting and retaining the best people, so they are excited about their work and their ability to really shape the direction of the company.
What does leadership mean to you?
At Leftbrain, we evaluate ideas based on their merit, not the seniority of the person who has them. Regardless of the title someone holds — they could be a brand new bookkeeper straight out of college — we welcome insight from the team and are always trying to find better ways of doing things. Equally important, everyone on the team is welcome to challenge senior executives. All ideas stand or fail on their own merit. This creates an environment of teamwork and innovation.
How do you elevate client experience?
Innovation through technology has helped us elevate client experience, both indirectly and directly. First, our in-house tech stack allows us to supercharge the rest of what we're doing. This lets us be more efficient and accurate and return our personal focus to the client. We're constantly looking for innovative new tech to build or co-opt, whether it's the latest in bookkeeping software, borrowing from an entirely different industry, or building something from scratch.
Second, we elevate client experience directly by providing a mobile app to our clients. This lets  them easily and instantly understand their financial health, the status of invoices and bills, and where their money is coming from and where it's going. No other business manager is doing this. It's exciting to be on the cutting edge of redefining what business management can and should be.
Nicholas Judd co-founded Leftbrain in 2019 to equip entertainers and their teams with intuitive technology for understanding and managing their finances. His innovative approach earned him a spot on Billboard Magazine's 2021 Top Business Managers List.
In addition to Leftbrain, Nicholas founded Entertainment Talk Shop. He also managed finance at global music event producer Livestyle, Inc., and founded consulting firm, Judd Financial.
He is a 2020 MBA graduate of the University of Chicago's Booth School of Business. In 2008, he graduated Summa Cum Laude from Syracuse University, where he received his bachelor's degree in Accounting, Finance, and Music Industry.