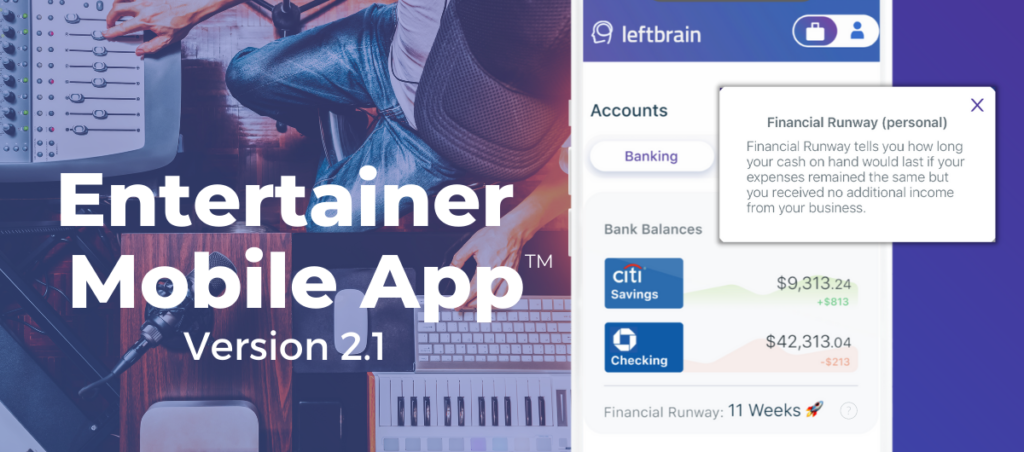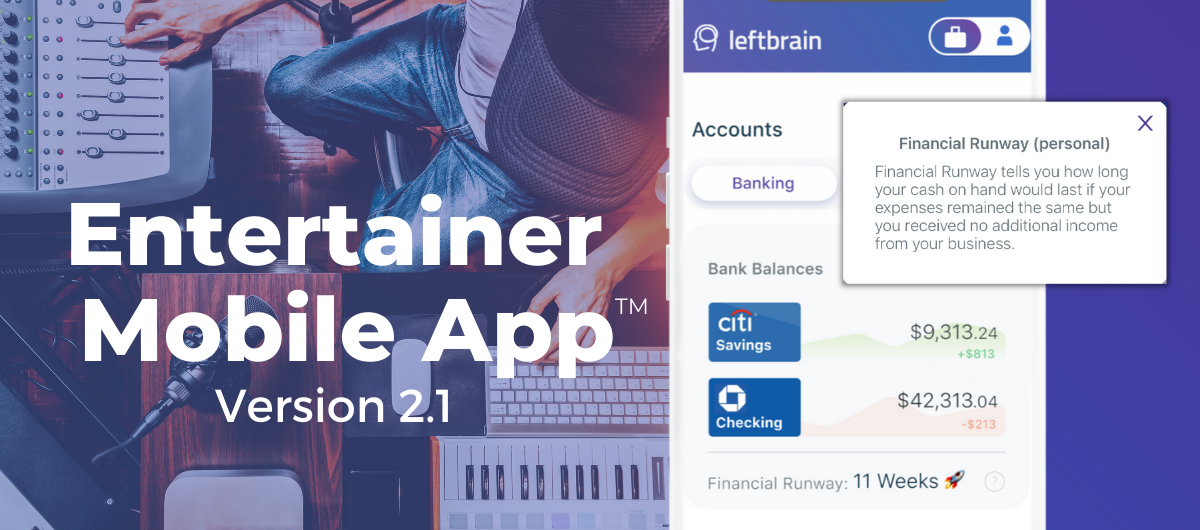 Leftbrain releases Version 2.1 of the Entertainer Mobile App
Leftbrain released the latest version of its Entertainer Mobile App this week. Version 2.1 includes new features, frontend and backend updates, and a minor bug fix.
New Feature: Financial runway
Perhaps the most exciting new feature of Version 2.1, Financial Runway estimates how long cash on hand will last.
When the pandemic struck two years ago, touring ended abruptly and music creators saw their income plummet. Leftbrain business managers worked closely with our clients to weather the storm.
The Financial Runway feature is designed to address short-term situations when cash flow is unpredictable. The feature assumes overhead (fixed monthly expenses) remains the same but no additional revenue comes in, as we saw during the pandemic.
"At Leftbrain, we're building technology that empowers creators to earn and keep more of their money," says Nicholas Judd, Leftbrain co-founder and CEO.
"Financial Runway gives music creators peace of mind knowing how long cash on hand will last and provides actionable insight so they can adjust spending habits to their long-term goals."
New Feature: Info buttons
Accounting terms can be confusing to non-accountants (most of us). The Entertainer Mobile App now includes info buttons alongside key features and terms, so there's no guessing what each means.
New Feature: Personal greeting
For music creators with a different stage name than their personal name, the app now greets them accordingly. On the business side, the app now addresses music creators by their stage name. On the personal side, it addresses them by their personal name.
It's a small detail, but it is an extra layer of personalization. And it's a convenient way for the artist to know what section of the app they're in.
Backend Updates
On the backend, account routing improves accuracy. We also fixed a bug affecting the display of accounts. Now managers or clients with multiple accounts can see all accounts in the scroll-view of the account-selection screen.
"This version of the Entertainer Mobile App improves reporting accuracy and gives artists even greater understanding of their finances," says Kevin Kelley, lead developer of the Entertainer Mobile App.